Rusutsu has been a popular summer get-away with Japanese for decades, but winter is when it shines.
Operating from late November to mid April, Rusutsu Resort is one of the largest ski resorts in Hokkaido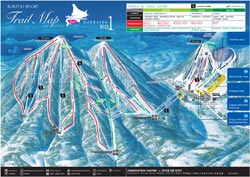 The resort is spread over 3 mountains, (East Mt, West Mt, and Mt Isola) with 37 different courses to choose from (
view the trail map
).
There are a total of 42km of runs, with the longest course reaching 3500m in length. The courses were carefully designed to give skiers at every level an exciting challenge. They are split roughly 30% beginner level, 40% intermediate, and 30% advanced level.
The state-of-the-art lift system has 4 gondola sections, 7 quad lifts, and 6 pair lifts that quickly shuttle you to any section of the mountains without long walks or long waits. Day time skiing is from 9:00a.m. to 5:00p.m., while, night time skiing goes from 4:00 p.m. to 9:00p.m. There is also midnight skiing available occasionally throughout the season. Snowboarders will find tabletops, rails, and a 1/2 pipe ready and waiting.

The annual snow fall averages approximately 10 meters, so there has never been a need for any artificial snow. Rusutsu Resort carefully grooms the slopes every night, but the real secret to its popularity is the feather soft powder snow that falls almost daily. Professional groomers, daily snow, and small crowds insure that whether you stay on the groomed runs, or duck into the woods to enjoy shushing through the trees, you can almost always find fresh powder late into the afternoon. The resort's chief ski instructor explains it this way:
"We not only enjoy the beautiful views of Mt. Yotei, but it controls the quality of the snow. The mountain is so high that only the softest and lightest powder reaches over it to reach Rusutsu. The snow is so light here that you don't have to make any extra effort to lean back on your snowboard. It goes nose up by itself, and you can just relax and enjoy the feeling."