Rusutsu has always been a popular vacation spot in summer because of the wonderful mountain climate
not too hot or humid unlike summers throughout the rest of Asia, and with a wealth of activities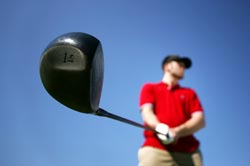 Friends from Australia have called Rusutsu "
the best kept golf secret in the world
". There are no less than
eight different courses within a 15 minute drive
from Rusutsu Resort Hotel, and one or two within a short walking distance. With several courses in Sapporo itself, the ones in Rusutsu remain uncrowded throughout the summer and fall.
The rolling green hills and beautiful mountain views make each round spectacular, and the famous attention to detail in Japan makes these courses the equal of any in the world. All courses include club house facilities, some even include natural hot spring baths in their locker rooms. Many of our guests have commented that they feel as if they received their own private golf course along with their rooms!

Rusutsu Resort has an amusement park with everything from merry-go-rounds for the kids, to roller coasters for the adrenaline junkie in you. They also include abundant shopping for souvenirs and gifts of all kinds.
Those looking for outdoor sports can try paragliding, river rafting, and road cycling. Mt Shiribetsudake is a popular hiking spot with long shady trails and several beautiful views of Mt Yotei, Hokkaido's Mt Fuji.
There is an abundance of edible wild plants people collect, and local farmers produce top quality fruits and vegetables that can be bought at many roadside stands. Everything from potatoes, pumpkins, sweet corn and Japanese radish to tomatoes and cucumbers and asparagus is available. Fresh cherries, melons, watermelon, and grapes are all grown on nearby farms. Hokkaido is known as Japan's dairy country, and families can tour local farms and enjoy fresh yogurt, ice cream, and other treats made daily.